How & Why to Find a Board Certified Dermatologist Near You
A board certified dermatologist means your doctor has met certain standards of safety, knowledge and experience.
It means they have already treated thousands of other patients under the supervision of other doctors before they treat you. Board certification for all different types of doctors exists to ensure that doctors have the proper training and that you as the patient get the proper safety you deserve.
Why You Should Only See a Board Certified Dermatologist
Here's a short video from the American Academy of Dermatology showing why you should see a board certified dermatologist:
Schedule a Consultation with a DCA board certified dermatologist
Medical school is a great start, but it takes time and experience to develop the necessary skills and judgment to be a board certified dermatologist. You wouldn't want a recent medical graduate with no experience to be your doctor, and it wouldn't be a good idea for them either.
Here is how the American Board of Dermatology describes the certification process:
"The certification process is designed to assure the public that a certified medical specialist has successfully completed an approved educational program and a thorough evaluation, including an examination designed to assess the knowledge, experience and skills needed to provide high quality patient care in that specialty."
Each dermatologist at Dermatology Center of Acadiana is board certified by the American Board of Dermatology:
Requirements for Board Certification from American Board of Dermatology
Earning an M.D. or D.O. from a recognized school
Completing an accredited residency program specific to dermatology
Assessments and documentation of individual performance during residency from residency training director
An unrestricted license to practice medicine to take certification examination
Must pass examinations from the specialty board
Once exams are passed, an applicant is given 'Diplomate' status and is a certified specialist.
Does Board Certification Need Renewal for Dermatologists?
Board certification requires renewal every 10 years for dermatologists who have earned their certification since the beginning of 1991. Board certification by the American Board of Dermatology (ABD) started in 1933, and between 1933 and the end of 1990 a renewal process was not required.
In 1990 the ABD recognized that new information was being introduced at such a rapid pace that they thought it necessary to include continuing education and re-certification processes every ten years.
Some of the highlights of board certification include:
Dermatologists treat over 3,000 diseases; so extensive education, experience and continuing education are necessary
8 years education, an internship (1 year), and a residency (3+ years) are required to become certified
Each residency includes 12,000-16,000 hours of treating patients
Here is a comparison of the requirements of a board certified dermatologist with a physician assistant and a nurse practitioner from the American Academy of Dermatology: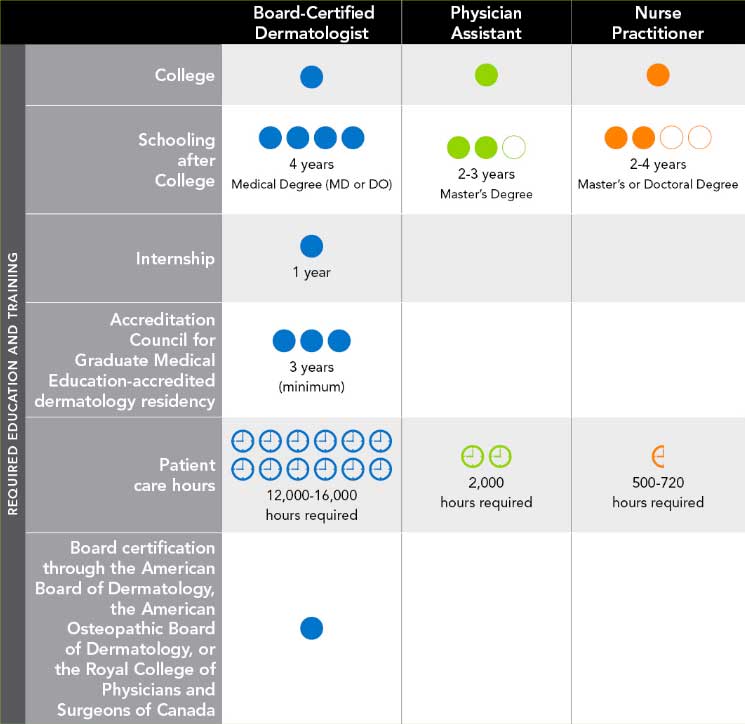 While most dermatology offices (including ours) will include other staff such as estheticians and potentially nurses, it is always important to know that the dermatologists in charge of the practice are board certified dermatologists. Without board certification it is hard to know how much experience and expertise a doctor truly has, whereas with a board certified dermatologist (or doctor of any type) you know at least these stringent baselines are met and that even if you are their very first patient as a board certified doctor you are still one of thousands of patients they've treated.
Saving Money Isn't Worth Risking Your Health or Appearance
While often times cosmetic procedures and other treatments are cheaper when performed by someone without board certification, part of the reason for that is because of the increased risk.
The cosmetic side of dermatology is about helping people to look and feel better which makes some people think that having a board certified dermatologist is not important, but if the right practices or procedures are performed the wrong way your skin can be harmed for the long term. Certain procedures like injections that are normally very safe when administered by a board certified dermatologist with proper understanding of facial anatomy and vein structure can all the sudden become quite hazardous.
This is why it is best to always go to an expert that understands your skin type and your needs so that they can make the best recommendation for you and your goals.
Proper training and experience only comes with time, effort, and practice. Our doctors have made sure to put in all three so that they can best serve you. It is well worth it to make sure that you get the best for your skin and find someone who is board certified.
Be safe with your skin and go to a board certified dermatologist.
Female and Male Board Certified Dermatologist in Lafayette, LA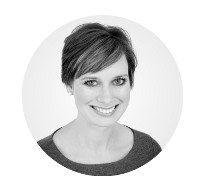 Some people feel more comfortable having a dermatologist of a certain gender, and at Dermatology Center of Acadiana we have both. Dr. Daniel Dupree is a male board certified dermatologist, and Dr. Kristy Kennedy a female board certified dermatologist.
Many parents find comfort in the fact that Drs. Dupree and Kennedy are parents too. With four children each, rest assured that your child will be in good hands.
About the American Board of Dermatology
The American Board of Dermatology is one of the four founding members of the American Board of Medical Specialties (ABMS).
"The primary function of each ABMS Member Board is to certify physicians in their primary specialty and subspecialty areas and to support the professional development of those Board Certified physicians throughout their career. This is accomplished through a comprehensive process involving educational requirements, professional peer evaluation, examination, and professional development."
The founding members of the ABMS include:
American Board of Dermatology (skin)
American Board of Obstetrics and Gynecology (childbirth and female reproductive system)
American Board of Ophthalmology (eyes)
American Board of Otolaryngology (ear and throat)
The ABMS now includes 24 different Member Boards, with 15 starting between 1933-1941 and the rest coming slowly over time after that. The most recent additions were the American Board of Medical Genetics and Genomics in 1991, and the American Board of Emergency Medicine in 1979.
Take a look at this timeline from the ABMS website to see when all the different Member Boards were added: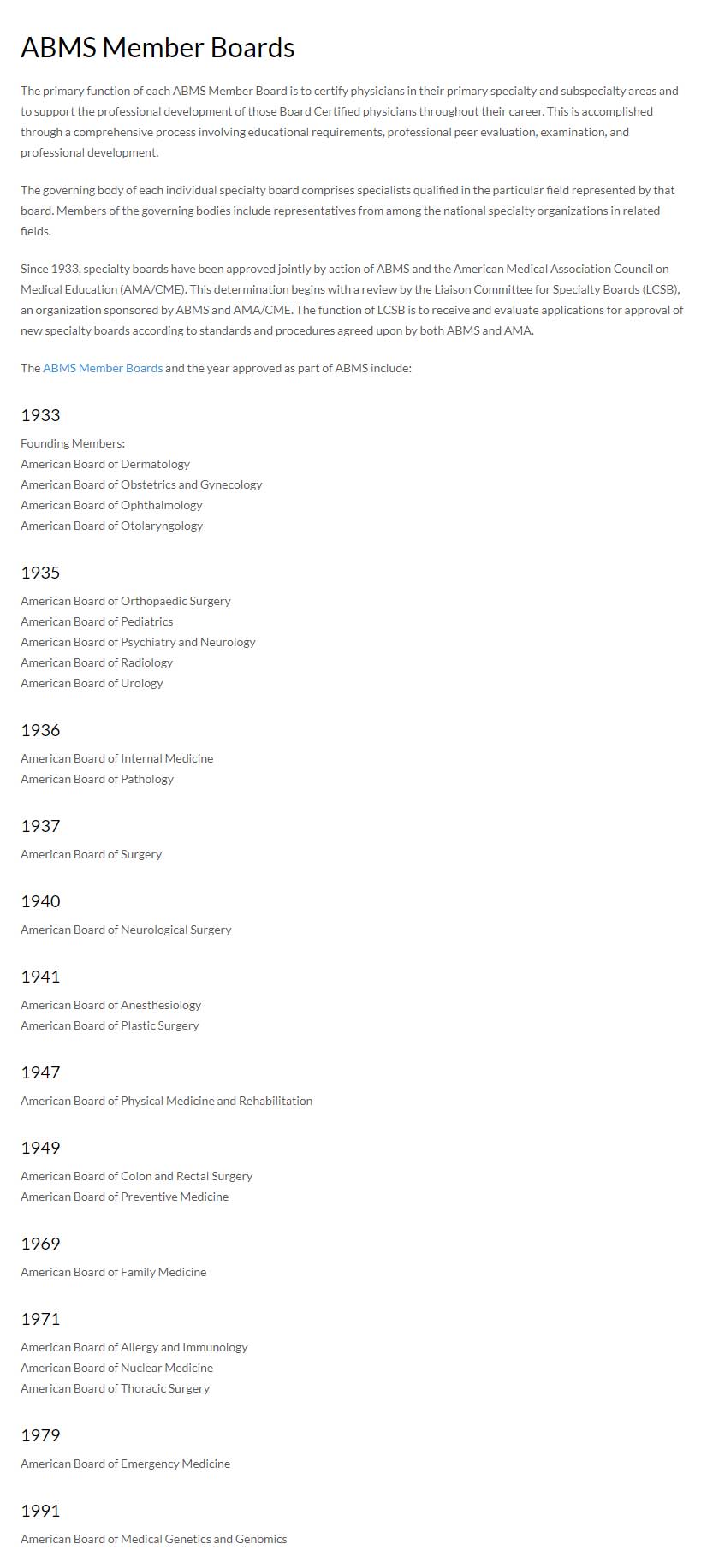 Dermatology Center of Acadiana Puts Your Safety First
Here at Dermatology Center of Acadiana we take your safety seriously, and that's why each of our dermatologists has gone the extra mile to become board certified. In Louisiana there have been numerous cases of people having adverse results to what are normally standard dermatological procedures when performed by a qualified dermatologist.
The good news is that these mistakes are easily avoidable. These types of mistakes are often much easier to prevent before they happen than they are to fix after they do, so make sure not to take risks with your health or your appearance.
Make sure you choose a board certified dermatologist, whether it be at DCA or another dermatologist.
It's important.
Set up your Appointment Today