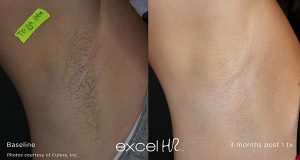 The Excel HR Laser incorporates advances in technology to be safe and effective for all skin types. Most hair removal lasers are not safe to treat darker skin types, as they may result in unwanted discoloration of the skin. The Excel HR Laser incorporates both a 1064 nm laser that is best suited for treating darker skin types and a 755 nm laser for lighter skin types.
Laser hair removal in Lafayette LA works by targeting the pigmentation of the hair to destroy the hair at the follicle. Therefore, results are not as consistent with lighter hair as with darker hair. If you are interested in laser hair removal or other laser procedures make a consultation with your dermatologist at Dermatology Center of Acadiana today to see if laser hair removal is right for you.
What Make Excel HR Laser the Best for Laser Hair Removal
This laser is a quantum leap improvement in hair reduction lasers. The cooling system is the best I have ever seen. This gives superior protection for all skin types….Simply the best device on the market." – Mary P. Lupo, MD, Lupo Center for Aesthetic and General Dermatology
There's good reason for laser hair removal to be so popular. As technology advances the procedure is becoming more effective for a wider range of people and more comfortable as well. Many other cosmetic procedures are also gaining in popularity.
Least Uncomfortable Laser Hair Removal Treatment on the Market
The Excel HR laser is the industry leader both for getting results and for keeping you comfortable while you get them. The Excel HR was rated as giving less discomfort by 100 percent of patients who experienced both the Excel HR Laser and another competitive device on equivalent settings for all of these areas:

Laser Hair Removal is Quickly Growing in Popularity
Laser hair removal in Lafayette LA is one of the most popular aesthetic medical procedures. Click on the graphic below to see growth over 10 years!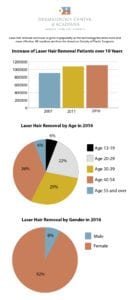 Advantages of Laser Hair Removal Over Waxing
The biggest advantage is that laser hair removal has long lasting results. While it usually takes 3-6 treatments to fully treat an area, once that area is treated those hair follicles are no longer able to grow hair.
Over time new hair follicles can sometimes develop in the same area and warrant a follow up treatment, but the amount of hair will be significantly reduced if not eliminated entirely. Waxing or plucking require never ending treatment every 3-6 weeks as long as results are desired, as the ability of hair to grow back remains unaffected. Waxing and plucking can also cause significant damage to the skin in terms of burns, irritation, ingrown hairs and scarring.
Common Concerns and Questions about Laser Hair Removal
Is there downtime?
There is generally not any downtime after laser hair removal, but there might be slight reddening of the skin. We do recommend limiting sun exposure directly before and afterward and making sure to wear SPF 40+ sunscreen if you will be in the sun.
Do I need to do anything to prepare for hair removal?
It is best to stop waxing or plucking 6 weeks before your procedure and to shave the area to be treated within 24 hours of treatment.
How long between laser hair removal treatments?
Generally we wait 8-12 weeks between treatments, but the time varies quite a bit depending on the area being treated.
How long does a treatment take?
How long a treatment takes varies substantially depending on the size of the area being treated. Generally for bigger areas it will take 45 minutes to an hour, whereas smaller areas could be done in as little as 5 or 10 minutes.
Why are so many treatments necessary to get rid of the hair?
Hair is only actively growing in 1 of 3 stages, and only the hairs that are actively growing are affected by laser hair removal.
What does laser hair removal feel like?
Laser hair removal is often compared to the snapping of a rubber band on your skin, but with Cutera's cutting edge sapphire contact cooling technology it will feel like an even weaker rubber band than with other lasers!
Schedule your Laser Hair Removal Consultation Today!